MUTE (Mutliple Urban Transport Evolution) is a global subscription program for advanced electric vehicles (EV's) that eliminates the noise of ownership while cooling our planet. Usership instead of ownership.

Walk in, ride away, no contracts, no hassles, hand-back when you like with insurance and global partnership programs. As simple as downloading the APP , booking your bike and riding away.
MUTE was established in 2016 by CEO and founder Patrick Davin. Our mission is to help replace 130 million internal combustion engine mopeds worldwide by offering low cost, green EV transport for urban environments on a subscription basis people and companies will not own expensive assets in the future. They will subscribe to access on-demand models like MUTE. Since establishment MUTE has had over 8000 short and long-term members join the program . It has established itself in 5 countries and our members have driven over 12 million green pollution free kilometers.
Electric scooter sales are growing 5 times faster than ICE scooters globally with electric cars following a similar trend. The world is becoming environmentally aware, and MUTE aims to make the process of getting yourself mobile whilst saving our planet as convenient and hassle free as possible. With risk associated with ownership. Ownership is the old way of having access to something. When it comes to vehicles, ownership means maintenance, insurance, financing and heavy depreciation. And that's why MUTE provides usership instead of ownership.
Since inception in 2016, MUTE has expanded to over 5 different countries around the world with 5 more international locations planned for 2022. MUTE currently has a global subscription base of over 8000 active users and continues to expand exponentially with the goal of over 1 million members worldwide in this decade , TRANSMUTED to green, environmentally friendly EV's. MUTE's continuous effort to save the planet has earned many accolades, most recently being voted 2021 Small Business of the Year as well as Sustainable Brand of the Year in 'That's Shanghai' People's Choice Awards.
5 Reasons to use MUTE
INSURANCE / ROADSIDE ASSISTANCE / MAINTENANCE
With MUTE, upfront financing costs disappear. With Third-party and personal insurance coverage, personal roadside assistance and repairs and free service and maintenance included with a MUTE subscription. MUTE Subscribers enjoy all the benefits of ownership, with none of the noise.
MEMBERSHIP BENEFITS
The benefits of MUTE subscription do not just end with a scooter. All subscribers enjoy VIP access to events hosted in their city along with huge discounts with our partnered businesses all around town, saving our members money wherever they go; often completely offsetting the cost of membership. If utilized your scooter monthly subscription will be offset so your scooter will actually cost, you nothing … FREE GREEN TRANSPORT .
TREE PLANTING
In order to offset the environmental cost of the manufacture of the scooter and battery production, for every new subscriber, MUTE plants a tree in drought ridden areas benefiting both local agriculture and the environment. With over 1500 trees planted, millions of green, electric kilometers travelled and over 884 metric tons of carbon saved, subscribing to MUTE is one of the best things you can do for our planet. Rethink your GLOBAL Transport Footprint .
RECYCLING
Mute recycles 100% of our vehicles after three years. Through our contacts within professional recycling. Plastics are recycled into eco-friendly helmets; batteries live a second life aiding power storage and distribution of renewable energy facilities and steel framing is remolded into new scooters. This means that our vehicles are always fresh and modern.
THE APP
The MUTE app cuts away the middleman and creates efficiency. Subscribers communicate and register entirely through our digital platforms – no need to waste your time browsing through dealerships or trade shops.
Getting Started
MUTE Garage provides a subscription program from 280RMB/month, with no deposit, no fixed contract, no minimum term (hand it back when you like), with all registration/licensing/insurance taken care of for you, plus GPS enabled theft proof and free repair/maintenance service.

For Shanghai living readers get a discount of 50% off first-time sign-up fee.
Scan the Wechat QR code below for enquiries and scooter booking.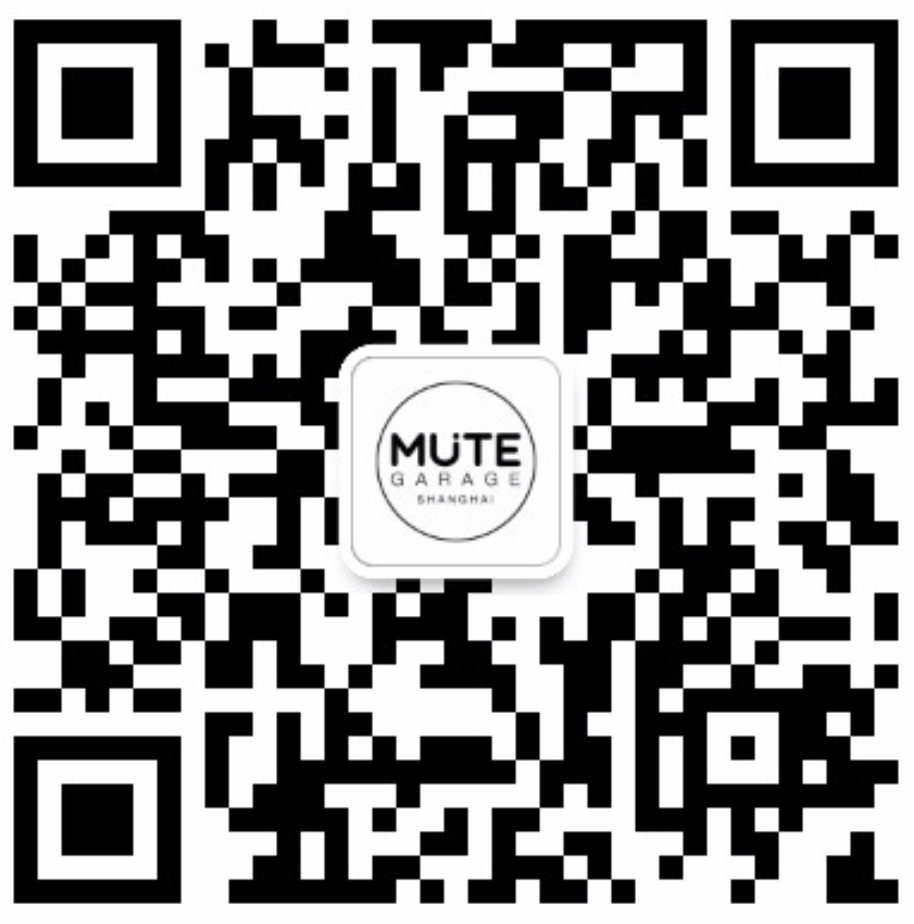 MUTE Garage Shanghai
Room 101, Building 2, No.425 Yanping Road
Jing'an, Shanghai
China

Web: https://www.e-mute.com/
Tel: +86 182 2183 7059